So I'll write a new one. I'm not going to bother putting this on the front page so in the end idk if followers are going to see this in their follower list or what. 
I just got back from Canada where I spent a week with Keegan McFly and Coolprinter. I needed that. This year wasn't that great for me BUT it feels like the end of the year's looking up. It even snowed where I live yesterday which is crazy because the climate here is subject to a governemt experiment designed to make everyone here as miserably hot and sweaty and moist as possible for 10 months out of the year.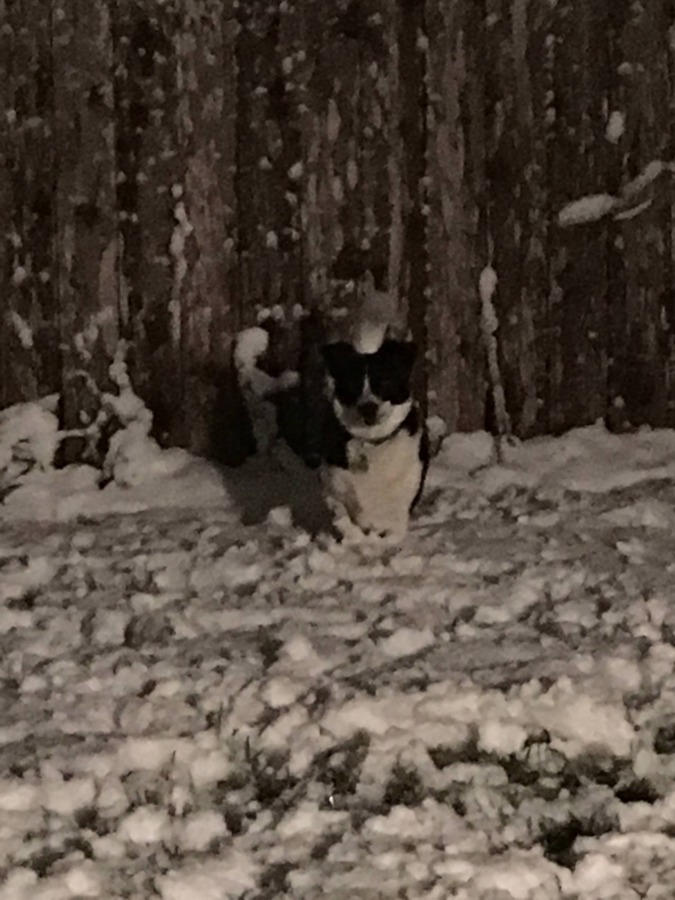 There's a-my dog in said snow. See him? Neat, right?!
I'm glad I get to travel as much as I do. I can't recommend visiting internet friends enough especially if you live in a shithole town. 
---
I'm going to write about Newgrounds. The very place you're at right now! Look around! Right now if you're a supporter, there's a really pretty ocean background. You're a supporter, right? Get it together. 
I think the animation community's lucky to have Newgrounds because otherwise, we'd have to host all of our stuff on youtube and my twitter timeline would have even MORE tweets complaining about how Mr. YouTube is here to ruin every animator's day. 
One thing that kinda makes me glad that I spent most of my years with a brain on NG is the attitude around here. Real-live, mostly unadulterated "I'm doing it because I love it" vibes. Whats cool is how many people adopt that kind of thinking even today when online animation's in a weird place. I think it's a little unfortunate that youtube's adding fire to the flame that is making slideshows about a fake life story but hopefully the smart ones (the ones who actually animate) will find Newgrounds. I think Cuphead is also going to help with that. Keegan pointed out that there are a lot of kids gawking at it. 
In the end, no matter what, unless you're a bonehead, you're all for Newgrounds. It brings people together and it's sweet! 
Tom bless. 
I'd talk about my own animation stuff but I'll save that for when I can write about that without work looming. 
I'm pretty sleep-stuff-ed up so this post is probably not that great.